Suki
started a non-tag "suggestion" asking everypup to post a picture of themselves as a wee little puppy dog. My mama didn't find me and take me home until I was 3 months old, so I was not super small. I weighed exactly 8 pounds 2 ounces, and I was able to sit on my mama's lap without a problem.
The only problem was...my pop never wanted a dog - - but since he's kept my mama waiting for over 7 years for a marriage proposal (she's a saint, isn't she!), she decided that one day she would get a dog. I was lucky enough to strike her fancy! This picture is the one she took the day she brought me home...before my pop even had a chance to lay eyes on me. In fact, he saw this picture before he saw me in person! I gave the camera my cutest puppy look - and the rest is history.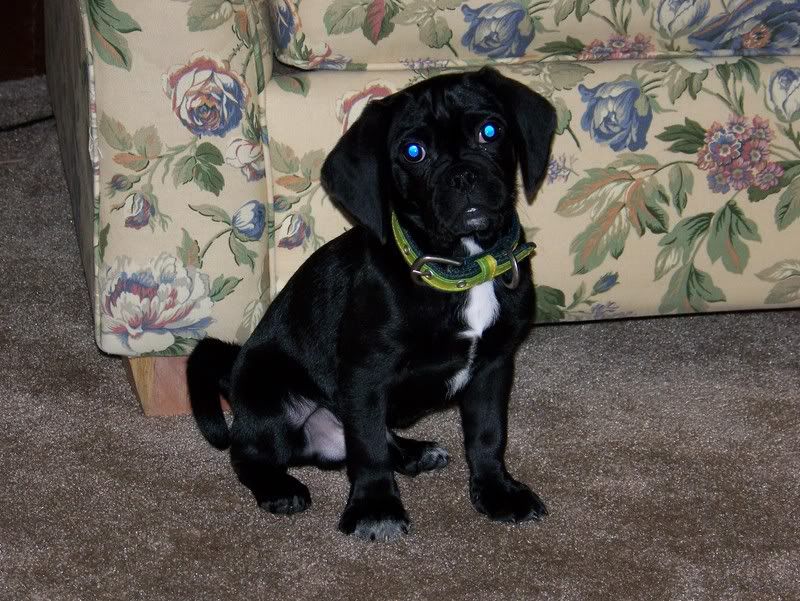 Now, I'm
big!
I'm 9 months old, and weigh 22 pounds and 3 ounces. Not much has changed looks wise...I'm still super cute, my tail is still curly, my ears are still floppy and my chest is still white. Oh wait, the vet lady did steal my balls - but that's it. However, I can now jump up onto the couch, I know a whole slew of cool tricks, I can no longer fit into any of my awesome hiding places and I am completely potty trained!

Look how small that chair looks now against my growing self!
So...if you are reading this, and you have not posted your baby picture, now is the time to do it! (And, let me know, so I can check you out!)