Last night, mama came home - went immediately to the bathroom, changed her clothes and came running to my pup kennel! She was a tornado! She unlocked my kennel and bundled herself all up, and led me outside. I had no idea why she was buggin', but after my usual pee'scapade, she brought me over to the car. I looooooooooooove car rides, even though I am a very naughty puppy when riding in a car. (I drive too - see my pic below for
evidence
.)
We drove through the town a little, and mama kept muttering about "the sun going down" and "gotta find it" and "Sparky, SIT DOWN!" I started to get excited when we entered the park! I've never been to a park - but I've read about it on other blogs...and it looks like a really cool place, in the summertime. But, it's winter (in case you need reminding) and it's too cold for little pups like me - but mama had a plan.
Then, I felt it. Poop! Right at the hole! I started to cry a little. Mama must've thought that I was just being naughty ('cause I am really naughty) and told me to stop. She just didn't understand. I finally had to get up and wave my butt in her face - and when I did, she managed to find a place to park just in a nick of time...as soon as my hind legs hit the pavement, I squatted. Close call!!! I laughed a little when mama bent over to pick it up with a baggie, because it was a stinky one!
We never did find the dog park - but I'm sure we will try again this weekend. It's supposed to be by the tennis courts, but we walked a little and didn't see it. Maybe it was too dark by the time we parked. Or, maybe we need a map.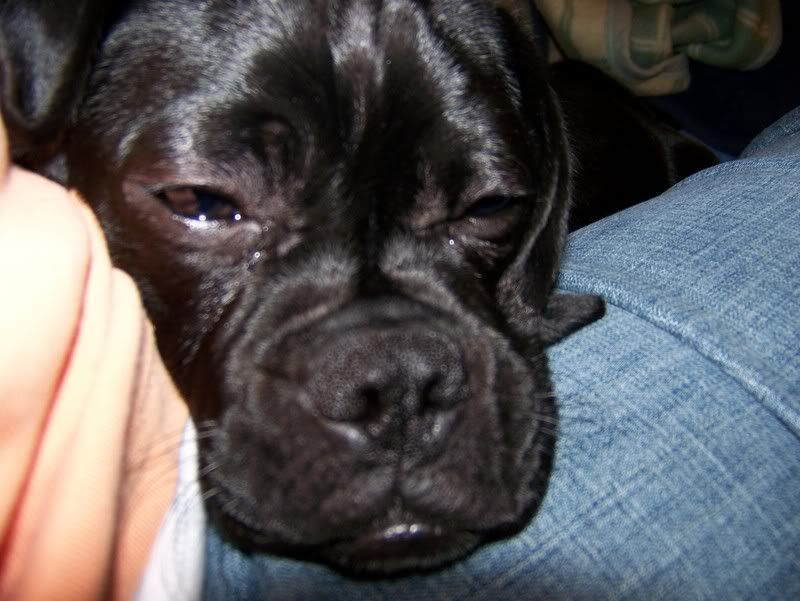 Regardless, I was very tired when I got home. Riding in the car expells so much of my energy. Luckily, my mama's lap is so comfy! Look at me...I can't even keep my eyes open. Pathetic!